---
For the 25th year in a row, the Burlington County Insurance Pool Joint Insurance Fund (BCIP JIF) celebrated Member School District successes at their Annual State of the Joint Insurance Fund Dinner.  Rewards were earned by members who reduced the number of accidents by focusing on local safety efforts. Utilizing BCIP JIF safety services, districts build and maintain responsive internal accident reporting systems. Member Districts were acknowledged for their hard work with recognition plaques and monetary awards. In all, 38 member school districts were recognized and received awards totaling $148,000.
Click HERE to view the coverage in the Burlington County Sun
Mark Mignone, Director of Building and Grounds, Voorhees Township BOE won the Safety Star of the Year Award for his commitment to Safety, including establishing safety committees and spearheading critical safety and training initiatives. He worked diligently to fulfill COVID safety plans that were outlined to the public, including driving four hours round trip to collect UVC Lighting Disinfection System units on a holiday and working the night shift for a week to fulfill the promise to students and staff that the rooms would be safely disinfected by UVC lights every night along with the usual cleaning procedures.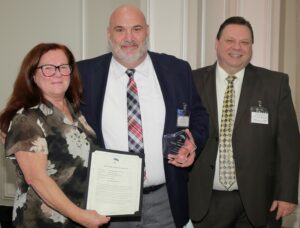 Tony Voiro, Director of Building and Grounds, Lenape Regional HS District also won the Safety Star of the Year Award. In his 16 years as Director of Buildings and Grounds, he has implemented the use of safety saw stop units in all wood technology classes, assisted in the installation of over 800 new locks for all classrooms and worked closely with the District Administration to give guidance for the reopening of schools. In addition, he created written procedures for keeping facilities properly ventilated and disinfected during the COVID crisis. He constantly places the safety of students and staff above all else.
Delanco Township BOE, Shamong Township School District, Evesham Township School District and Moorestown Township Public School District were recognized as Safety Districts of the Year for their ongoing contribution to safety efforts, each earning an additional $2,500 reward.
View the Safety Awards Presentation HERE
---