Qual-Lynx Notice for SPELL JIF Members: Reporting COVID
Click on the link below to learn about COVID-19 Reporting Information:
Click Here for SPELLJIF COVID-19 Event Reporting Procedures
---
Revised N95 Mask Use
Below you will find links to the revised safety notice of voluntary use of N95 respirators:
Respirators During Pandemic Revised-September 2020  and  Appendix D-Voluntary Use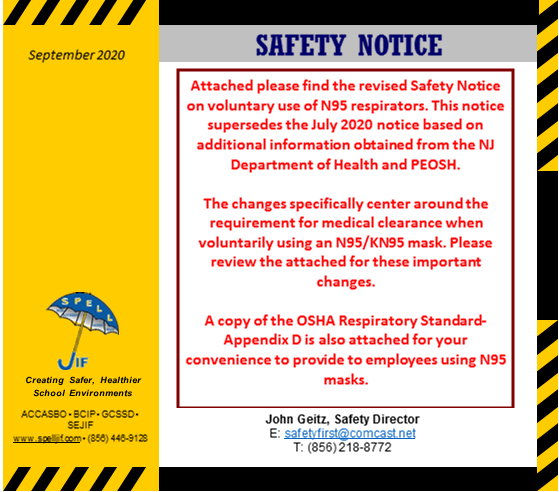 ---
CDC Resources
The Centers for Disease Control (CDC) website contains a K-12 Schools Toolkit for COVID-19 with various information including guidance documents, videos, printable posters, and more.
Click Here to View the CDC COVID-19 Toolkit
---
Safety Notice-Classroom Tents
Click Here to Read August 2020 Tented Classrooms Safety Bulletin
---
COVID Vacant Facilities Care
Since mid-March, school facilities have been virtually vacant and lay dormant. This condition can lead to a number of unintended consequences. In an effort to bring these items to the attention of school officials, we offer the following recommendations:
SPELL JIF Safety Notice – COVID19 Facilities Care – Vacancy – June 2020
---
Classroom and Locker Cleanout:
We've responded to some calls about closing school and acutely student locker clean and teacher classroom cleanouts.  Below is our collective advice vetted by Lou Greco, John Geitz, Joe Biluck, Brad Hoffman, Craig Wilkie and Scott Tennant.  Our advices are always what we believe to be best practice guides but we accept and fully appreciate that local circumstances dictate reality and what can be accomplished.  Your colleague owners of your JIF count on themselves, each of you and all of we vendors to help achieve the best enterprise efforts at getting things done while managing inherent risks.
SPELL JIF COVID-19 Advice: Locker and Classroom Cleanout 05-20-2020
---
Claim Reporting Advice
May 2020 COVID-19 Advice and Resource Page
---